Kickserv
#1 Most User-Friendly Software to Run a Service Business
About Kickserv
Built & Trusted By 1000s of Service Pros! Kickserv offers complete job management and customer relationship management (CRM), scheduling, estimates, mobile access, invoicing, dispatching, and more. Kickserv also synchronizes to QuickBooks Desktop, QuickBooks Online and Xero so users don't have to do double entry with the aim of saving time and money.
Kickserv is designed to be suitable for plumbers, HVAC, computer repair, electricians, handymen, carpet cleaning, landscaping and lawn care, painting, pool maintenance, maid service, pest control, roofing, contracting, appliance repair and many more industries. Kickserv helps manage bids and estimates, jobs, scheduling, dispatch, invoicing, and tasks with a shared online calendar where you can complete jobs. If you use Quickbooks we have a seamless 2-way integration with no double entry.
With one glance, users can see how their business is performing. With Kickserv, leads, jobs, and invoices are all at the user's fingertips. With the help of Kickserv's automated statuses users can easily stay on top of all their work. From closing a lead and managing a team, to collecting payments from customers, Kickserv will help businesses run smoothly with tools that are easy for the entire team to use.
Attach before and after photos, contracts, forms and other relevant documentation to customer records and send text and email reminders to customers and technicians for upcoming appointments. Technicians can clock in and out right from the mobile app when they arrive and leave a job site. Collect payment and signatures electronically so you get paid right away.
Generate standard and custom reports to see how your business is doing. Track lead sources, see how each technician is performing and more so that you can make decisions on changes you need to make to improve performance.
Pricing starting from:
US$47.00/month
Free Version

Free Trial

Subscription
Top 5 alternatives to Kickserv
Key benefits of Kickserv
No double Quickbooks entry

GPS Checkins to track employees' job activity

Manage appointments, CRM, and scheduling

Store all customer data in one central location

Import and export from and to Excel

Handle leads and assign follow-up reminders

Schedule new opportunities, jobs and tasks directly from calendar

Scheduling with drag-and-drop features

Helps users to follow-up with automatic reminders

Powerful and flexible custom fields and reports

Software works with Outlook, Google Calendar and iPhone

iPhone and Android apps

Two-way integration with QuickBooks Desktop and QuickBooks Online

Integration with XERO

Integration with Mailchimp

Integration with Podium

Integration with Stripe

Integration with Customer Lobby

Custom and standard reporting

Custom fields and templates
Typical Customers
Freelancers

Small Businesses

(2-50)

Mid-size Companies

(51-500)

Large enterprises

(500 and more)
Markets
Australia, Canada, United Kingdom, United States
Pricing starting from:
US$47.00/month
Free Version

Free Trial

Subscription
Top 5 alternatives to Kickserv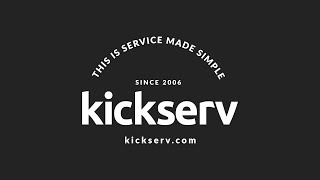 Total features of Kickserv: 137
API
Access Controls/Permissions
Accounting Integration
Accounting Software
Activity Dashboard
Activity Tracking
Alerts/Notifications
Appointment Management
Appointment Scheduling Software
Automated Scheduling
Availability Indicator
Availability Management
Bid Management
Billing & Invoicing
Booking Management
CRM Software
Calendar Sync
Chemical Usage Tracking
Client Management
Client Portal
Commercial Moves
Communication Management
Communications Management
Confirmation/Reminders
Contact Database
Contact Management Software
Contract/License Management
Cost Tracking
Credit Card Processing
Customer Database
Customer History
Customer Management
Customer Portal
Customizable Branding
Customizable Fields
Customizable Forms
Customizable Reports
Customizable Templates
Data Import/Export
Debit/Credit Card Processing
Digital Signature Software
Dispatch Management
Document Imaging
Document Storage
Drag & Drop
Electronic Forms
Electronic Payments
Electronic Signature
Email Alerts
Email Management Software
Employee Management
Employee Scheduling Software
Equipment Management
Estimating
File Storage
Financial Management Software
For Carpet Cleaners
For Commercial and/or Industrial Electrical Contractors
For Field Service
For HVAC Companies
For Handyman Industry
For Janitorial Services
For Moving Companies
For Pest Control Companies
For Plumbing Industry
GPS
Geographic Maps
Image Capture
Intake Management
Interaction Tracking
Invoice Management
Invoice Processing
Job Costing Software
Job Management
Job Scheduling
Job Tracking
Lead Management Software
Local Moves
Location Tracking
Maintenance Scheduling
Marketing Automation Software
Messaging
Military / GSA Moves
Mobile Access
Mobile Alerts
Mobile App
Mobile Payments
Mobile Signature Capture
Multi-Location
Online Booking
Online Payments
Online Time Clock
Opportunity Management
Payment Collection in the Field
Payment Processing Software
Pest Activity Tracking
Pesticide Usage Tracking
Photos / Images
Preventive Maintenance Software
Property Layouts
Purchase Order Management
Purchasing & Receiving
QuickBooks Integration
Quotes/Estimates
Real Time Data
Real Time Monitoring
Real Time Reporting
Real-time Scheduling
Real-time Updates
Recurring Appointments
Recurring Invoicing
Recurring Orders
Recurring Tasks
Reminders
Repair Tickets
Reporting & Statistics
Reporting/Analytics
Rescheduling
Resource Scheduling
Route Management
Routing
Scheduling Software
Search/Filter
Self Service Portal
Service History
Status Tracking
Surveys & Feedback
Task Scheduling
Technician Management
Third Party Integrations
Time & Expense Tracking
Time Tracking Software
Warranty Tracking
Work History
Work Order Creation
Work Order Management
Workflow Management Software
Sage 300 Construction and Real Estate
#1 Alternative to Kickserv
Sage 300 Construction and Real Estate provides the most complete solution for managing construction projects.
BusyPaws
#2 Alternative to Kickserv
BusyPaws helps you convert visitors to your website to paying clients and makes managing existing clients easier,...
QuickBooks Online Advanced
#3 Alternative to Kickserv
QuickBooks Online Advanced is a web-based accounting & business management solution which enables small businesses to...
Joist
#4 Alternative to Kickserv
Joist is a billing and invoicing platform, which assists contractors in insulation, masonry, drywall, electrical,...
Customer Support Software
---
Already have Kickserv?
Software buyers need your help! Product reviews help the rest of us make great decisions.
Showing 5 reviews of 332
Industry: Music
Company size: 11-50 Employees
Used

Daily

for

2+ years

Review Source
Overall rating
Value for Money

Ease of Use

Customer Support Software

Likelihood to recommend

7.0

/10
Servicing Company - Long-time User
Reviewed on 11/23/2021
Pros
- As a CRM software, we are able to manage all of our customers, scheduling, invoicing and reporting (not as bookkeeping or Financial Statements) in a generally good way.
- The inter-connectionedness of the various parts of the software makes it easy to navigate from one function to another.
- Although there has been some down time (which can be very difficult because we cannot function), but over the long-term it has not be crucial. Being an online CRM allows me to use any device.
- We are able to save virtually anything (pics, docs, etc.) for future use, which has been crucially important to us.
- The integration with Stripe for payment from our customers is now essential to our processes. It has worked flawlessly, easy to use, and easy to deal with Stripe for various things we need to do, including refunds.
- It works well for both our field service and in-shop jobs. This is crucial because using two systems would be very difficult.
-We are easily able to tailor the Products/Services, pricing, descriptions, to our specific needs - not being locked into some format that we don't like.
Cons
- Support is sometimes tedious.
- New features added (if we find out about them at all) can be very disruptive to our processes, and confusing. While some of them make sense in a wider world, they sometimes are baffling and frustrating in our business.
- We have 2 locations (and hope to have many more) and need to have separate systems. Kickserv requires us to use separate browsers for each. How are we going to be able to do that with 5 or 10 locations? And we're finding that some functions (e.g. access to support!) are no longer working on Firefox, one of the best and most popular browsers available. This is a serious problem for us.
- Although a great deal of our business is field work, we do not/cannot use the mobile app with our techs because it is far too limiting. They need to be able to access much more information than what is available to them, and so we have them login through a browser on their phones.
- There are essential functions that we have to do in business that Kickserv has not been able to program into the system (even when we offered to pay big $ to get them). E.g. There are several email templates, and auto sending emails: We need one to be sent as a follow up to Jobs, and another (sent out 6 or 12 months later) to remind people to schedule services . We have to do all of this manually, and would love to find a way to get it done automatically. Summary: Some things are hard to get into the software that other companies would also make good use of.
Response from KickServ
Thank you Doug for your continued support and taking the time to leave us some feedback. We greatly appreciate it. Know that your feedback does not fall on deaf ears and we are always working on ways to improve Kickserv.
Industry: Construction
Company size: 2-10 Employees
Used

Daily

for

2+ years

Review Source
Overall rating
Value for Money

Ease of Use

Customer Support Software

Likelihood to recommend

10.0

/10
Best Value for Scheduling/invoicing software
Reviewed on 11/23/2021
Overall, I have been more than satisfied with Kickserv. I initially navigated the platform pretty...
Overall, I have been more than satisfied with Kickserv. I initially navigated the platform pretty easily, along with ample help from the support team. Whenever I experience a problem, I receive help via the chat function from the same customer support members who are quick to provide solutions.
Pros
This product makes it easy to store a lot of data for our business including customers, project history, photos of job sites, notes for customers, dispatching crews to jobs, invoicing customers.
Cons
We experience some software bugs throughout use, which are often resolved with time. If I delete something on accident, there is not an undo button. If we change an estimate for a customer, there is no easy access to old records of past versions of the estimate unless we duplicate them every time we make a change. This can put us in a situation sometimes we are trying to substantiate claims to contractors about original estimates and the changes we made. Sometimes Kickserv will not work at all for a short period of time while our crews are on jobsites trying to upload photos/information or find their next jobsite, though this fairly rare. I wish there was an option to not allow credit card payments for certain invoices such as our contractors who are much larger jobs. Though, we have worked around this with different options such as sending a PDF instead.
Reasons for Switching to Kickserv
I did a one hour conference call with the ServiceTitan team and the platform seemed like it would be difficult to learn and was extremely expensive. They promised we would save money with the efficiencies the program would provide, but I just did not see it. Many of the functions they provided were completely unnecessary for our business when considering the cost of their service.
Response from KickServ
Thank you for taking the time to leave us a review, as well as continuing to support us, Katielynn. If you encounter anymore issues, please don't hesitate to reach out. We will be happy to assist you with resolving any issues.
Industry: Environmental Services
Company size: 2-10 Employees
Used

Daily

for

2+ years

Review Source
Overall rating
Value for Money

Ease of Use

Customer Support Software

Likelihood to recommend

7.0

/10
Overall, I like Kickserv. I rely on it for my business, and the product continues to improve.
Reviewed on 6/25/2017
It helps me manage four irrigation service technicians and keep them going where they need to go.
It helps me manage four irrigation service technicians and keep them going where they need to go.
Pros
Their web site when used on a desktop computer is great for scheduling and dispatching. We use it throughout the day to line up jobs for our technicians. Previously existing customers are easy to find using their search feature. I can add a new job, and then click a button and it sends the technician a text message with the job description and address. The technician can click on the address link and get the GPS coordinates on their smart phone. The workflow is logical and consistent. When things go wrong, they are good about communicating what is happening.
Cons
We are really only able to use part of the service. While it is excellent for scheduling, it is not useful for invoicing unless your invoicing needs are very basic. The product is not compatible with Quick Books groups. I don't use their mobile app. I prefer their mobile web site, but recent changes have made their mobile site less useful. Their server sometimes gets overloaded and the software becomes unresponsive. Tech support is inconsistent. Sometimes very helpful. Sometimes condescending. If a customer has an email address, it will automatically send this customer a reminder notice. There is no way to turn this feature on or off. For recurring jobs where we go back to the customer again and again, this is a problem because we don't always schedule the customer on the same day every month. It also gives the customer a link to the customer account center, which we also do not use, since we are unable to use Kickserv's invoicing feature.
While Kickserv continues to make improvements to the service, I frequently find myself frustrated because improvements are often not fully tested, resulting in unpleasant side effects. Example - recent formatting changes have made the scrollable area of their mobile web site very small and difficult to work with. Another change awhile back formatted all of my old customer data in such a way that their addresses would fail to appear in the text messages sent to my technicians. I am having to manually change all of these.
Overall rating
Ease of Use

Customer Support Software

Likelihood to recommend

9.0

/10
Kickserv is a still
Reviewed on 12/9/2015
Pros
The product is simple to use and meets my customer service and scheduling needs for the price of the cloud software but also allows me to customize things without major programming or fees to get somebody else to do it. I paid for the Boot Camp training and was very worth it just to get things setup and understand the software. It sync's reliably with QuickBooks which has been a problem in the past for our company with other cloud based Customer Service Programs. The vendor has been GREAT! They feel like my team as they always respond within minutes to hours of my questions or problems I do run in to. I just send them a quick email and they help. Also they are always interested in my recommendations and are also getting feed back frequently from me and making improvements to the software. One thing that is great is that they provide a portal to the customer so any changes I make to an estimate or schedule or notes can be seen by the customer (they only see notes you want them to see). They can be abreast with what is going on with their work order. They also can pay for their invoice right online as well which I love so my customers have more control over their payment needs. Also our Kickserv is linked to our website so anytime a customer wants to contact us it creates an OPPORTUNITY in Kickserv for us to follow up on and notifies us via email that we have an interest. I would and have recommended Kickserv to other businesses.
Cons
This product does not handle the purchasing side of things which I would love to see. It sounds like they are looking into expanding this software to handle tracking purchases. Right now I just use QuickBooks for this. I also don't like the HTML language which is required for the setup of the invoice, estimates and work orders templates. It is hard to work with being I am not a programmer. I have managed to figure things out on my own with their help site and calling them. Its not a major issue but something I think they can improve on more. Again the Kickserv Team has been very helpful in anything I try to do or questions I have.
Industry: Public Safety
Company size: 11-50 Employees
Used

Daily

for

2+ years

Review Source
Overall rating
Value for Money

Ease of Use

Customer Support Software

Likelihood to recommend

10.0

/10
Superior Elevator Inspections - We Love Kickserv!
Reviewed on 6/24/2019
We have many customers that have many conveyances that we have to inspect per State requirements....
We have many customers that have many conveyances that we have to inspect per State requirements. Each has a different State Identification Number to record and track which we use in scheduling. We have to do much coordination between elevator contractors (Otis, Schindler, Kone, etc.), our customer building owners, and our inspectors. It's not always easy but Kickserv makes things much more manageable. Prior to Kickserv, spreadsheets, Word calendars and white boards were used...it was like the Dark Ages. :)
Pros
It's so easy to use and functions well for most of our needs. I LOVE the Special Instructions section and the clarity it provides in the Overview tab. Tags are also very helpful for our needs. The Resource calendar is fantastic too. Sometimes updates made in QB don't seem to come over to Kickserv in a timely manner but I think they usually do eventually. Overall, Kickserv has been a game-changer for us and I'm grateful every day for it's availability.
Cons
On my wish list is a feature that will allow me to duplicate contact information of one customer and paste it into that of another. We deal with many management companies who manage several of our customers and I have to re-type their contact info into each shared customer that we have. Reports are a little cumbersome to create but I did work in Salesforce.com many years ago and found that to be the case with them too.
Response from Kickserv
Hi Sandy,
SUPER review! You have been a very loyal customer for over 3 years! Thank you. We do thrive on feedback from our customers like you. Your viewpoints were insightful, and I believe they will help others.
Kickserv FAQs
Below are some frequently asked questions for Kickserv.
Q. What type of pricing plans does Kickserv offer?
Kickserv offers the following pricing plans:
Starting from: US$47.00/month
Pricing model: Free Version, Subscription
Free Trial: Available
A Free Trial is offered on all plans. Free plan: up to 2 Users *must use the internal CC payments feature. Lite plan: up to 5 users $47/month with annual plan ($59/monthly) Standard plan: up to 10 users $95/month with annual plan ($119/monthly) Business plan: up to 20 users $159/month with annual plan ($199/month) unlimited + more features Premium plan: $239/month with annual plan ($299/month) unlimited + ALL features
Q. Who are the typical users of Kickserv?
Kickserv has the following typical customers:
Self Employed, 2-10, 11-50
Q. What languages does Kickserv support?
Kickserv supports the following languages:
English
Q. Does Kickserv support mobile devices?
Kickserv supports the following devices:
Android (Mobile), iPhone (Mobile), iPad (Mobile)
Q. What other apps does Kickserv integrate with?
Kickserv integrates with the following applications:
Dropbox Business, Google Calendar, Google Contacts, Mailchimp, Microsoft Excel, Microsoft Outlook, Podium, QuickBooks, QuickBooks Online Advanced, Quickbooks Online, Stripe, Xero
Q. What level of support does Kickserv offer?
Kickserv offers the following support options:
Email/Help Desk, FAQs/Forum, Knowledge Base Software, Phone Support, Chat
Related categories
See all software categories found for Kickserv.