About AutoFluent
AutoFluent is an automotive repair management solution by TABS intended for use by any single-user shop or multi-store vendor handling part sales, tire sales, and auto servicing. Optimally configured for the USA & Canada market, this automotive business management software uses an integrated portfolio of tools for managing sales, workforce, inventory, customer activity tracking, accounting and invoicing, and multi-store data sharing.
AutoFluent automotive business management platform's core features include sales management, which allows shops and warehouses to create and track varied services, manage contacts, work orders and status reports. It also supports barcode scanning of inventory and VINs (vehicle identification numbers). With multi-location management features, AutoFluent enables owners of multiple shops to view, transfer, and manage inventory across multiple locations. AutoFluent also enables users to import data from their older software like DOS and Unix software into advanced web shopping carts and accounting software. It also provides support for customizable templates for email marketing and tools to manage business' complete invoicing and reporting needs.
Key benefits of AutoFluent
• AutoFluent software facilitates the management of employees, customers, suppliers, inventory and sales from one location.
• AutoFluent's customer tracking feature aids in finding customers by name, phone, address, vehicle, invoice number, or by swiping a card.
• Integrates with QuickBooks, Sage 50 (US & Canada), Simply Accounting, as well as major parts databases.
• AutoFluent enables users to view customer histories across different locations, and accepts payments from any location.
• Compatible with the invoicing needs of several US states and supports Canadian PST, GST, and HST taxes.
Typical Customers
Freelancers

Small Businesses

(2-50)

Mid-size Companies

(51-500)

Large enterprises

(500 and more)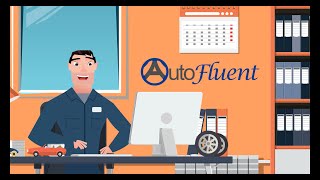 Total features of AutoFluent: 24
Access Controls/Permissions
Accounting Integration
Alerts/Notifications
Appointment Scheduling Software
Automated Scheduling
Billing & Invoicing
CRM Software
Customer History
Estimating
Inventory Management Software
Inventory Tracking
Invoice Management
Labor Rates
Maintenance Scheduling
Multi-Location
Point of Sale (POS)
Purchase Order Management
QuickBooks Integration
Quotes/Estimates
Reporting & Statistics
Sales Reports
Service History
VIN Lookup
Work Order Management
NAPA TRACS
#1 Alternative to AutoFluent
Napa Tracs is designed for automotive repair shops. The software helps with everything from estimating and invoicing to...
AutoLeap
#2 Alternative to AutoFluent
AutoLeap is a dynamic auto management software solution designed to help you modernize your auto repair shop. Our...
Shopmonkey
#3 Alternative to AutoFluent
Shopmonkey is a cloud-based auto repair solution designed to help businesses manage processes through appointment...
Workshop Software
#4 Alternative to AutoFluent
Auto Shop Management Software that is simple to use, simple to set-up yet feature rich. With multiple levels of Bronze,...
Customer Support Software
---
Already have AutoFluent?
Software buyers need your help! Product reviews help the rest of us make great decisions.
Write a Review!
Showing 5 reviews of 106
Industry: Automotive
Company size: 11-50 Employees
Used

Daily

for

2+ years

Review Source
Overall rating
Value for Money

Ease of Use

Customer Support Software

Likelihood to recommend

10.0

/10
Excellent Program with Fantastic Customer Support
Reviewed on 2019-12-16
We've had a great overall experience with Autofluent.
We've had a great overall experience with Autofluent.
Pros
Customer Service is so easy, quick and thorough with Autofluent. They make it simple to contact someone, I always get a prompt response, and I never have to repeat the issue like I do with other companies who transfer you through to 9 different support techs. Any time we've run into a glitch (which has been minimal), tech support is quick to respond and get it handled and then follow up and make sure that we are still happy. They have taken small suggestions and implemented small changes where it would make life easier, but still hold true to their software and it's consistency, not making unnecessary changes constantly. They always have a suggestion for fixing issues and are always incredibly helpful. I would highly recommend this program. In the three years we have been running Autofluent, it has greatly increased our ability to track parts, cores, sales, tech hours, etc. We feel like we have invested in a quality program.
Cons
The WO screens are very involved. There are a lot of items that can be clicked or changed or modified and when training someone, it makes it difficult to train and trust that they won't change something they shouldn't. However, with the ability to track and report so many items, it's is often that this mistakes can be caught and fixed.
Reasons for Choosing AutoFluent
We needed to get into the times and move away from paper tech copies.
Reasons for Switching to AutoFluent
Because of the ability to control functions, like parts and labor matrices and track reports.
Overall rating
Ease of Use

Customer Support Software
Excellent Product!! Astute & Excellent employees who exemplify great patience, kindness &...
Reviewed on 2012-09-13
Just the improvements that Chris and I went over. There may be more as I go along with the...
Just the improvements that Chris and I went over. There may be more as I go along with the training.
For example, a Tabs Field Option of the company website and the company email address. The vehicle inspection screen could use some editing in the pre-existing fields.
Thank you.
Best regards,
Lowell R. Gelin
Lead Auto Service Technician
On Call Mechanics, Inc.
(Office) (954) 548-7884
(Fax) (888) 740-9862
[email protected]
www.oncallmechanics.com
Pros
It is rare that I run into employees of a business that literally LOVE what they do. I can hear the passion in the voice of all 3 support technicians, (Troy, Chris and Shawn). I expressed this to all three of them as well as George Sein. I was so impressed with their character & the tonality of the calls (on a consistent basis mind you) that I asked about the process that was put into place that allowed for such good human beings to be in a work place. The support side of this business can be quite challenging and I received not 1 sign of frustration from either of the 4 (four) people that I mentioned earlier. It is with great pleasure to speak to them as I feel that I developed a friendship with all 4 of them already. This is a great feeling to have with a company as it establishes an undying loyalty to the establishment. Please continue the excellent work ethic & service that is exuded by your employees.
I am not easily impressed but I must say that I was greatly impressed.
Cons
If I had to say that there were any cons, I would say that your establishment closes too early. LOL. I only say this because I experienced a few selfish moments when I wanted the software readily available. (I had a strong egoistic & selfish moment there). In speaking with Chris, we found a couple of areas that could use some additions to the work order as the product is already near perfect. Another part of this establishment that is extremely impressive. Especially the cost when compared to R.O. Writer's $15,000 package deal (are they insane?)
I was so impressed that I have to add more pros than cons in this section even though this is the con portion of the evaluation. I referred 4 more people to obtain this software as it is (as I stated earlier) near perfect. Plus, you cannot beat the price. It's very affordable.
I mean this sincerely, please keep up the EXCELLENT WORK as well as the software improvements. I can go on & on, but I think you can see my perspective.
Used

Daily

for

2+ years

Review Source
Overall rating
Value for Money

Ease of Use

Customer Support Software
4 years+
Reviewed on 2017-12-26
Pros
when it works, it's great. but never work properly since day one. the Total amount of dollar never worked.
Cons
Canadian tax is never correct, paid for support and problems never solved. contact support never answer calls, online chat takes over an hour to connect to a person, and if you are away for couple minutes, they disconnect you. in other word you can never fix an issue. even you paid for support they never fix the problem and next time when support expires you will NEED to pay again!!! But not fixed!!!! Garbage company!
Response from TABS
We're sorry to hear you've had trouble with our software that you have been using for 4 years? Hundreds of satisfied Canadian shops use AutoFluent, and we are completely confident that we can handle your taxes. While our goal is to answer calls as they come in, high call volumes occasionally lead to wait times over 30 minutes. Please contact us to resolve your issue as you have provided no customer name for us to contact you.
Industry: Transportation/Trucking/Railroad
Company size: 2-10 Employees
Used

Daily

for

2+ years

Review Source
Overall rating
Value for Money

Ease of Use

Customer Support Software

Likelihood to recommend

10.0

/10
TRUE CUSTOMER SERVICE
Reviewed on 2021-04-16
This software has changed our business. When I was hired we were writing the invoices & having to...
This software has changed our business. When I was hired we were writing the invoices & having to look for something that might be covered by warranty was time consuming and tedious. The software moved us forward into the 22nd century & I was so thankful. I single - handedly entered the inventory, customer addresses & VINs into our system and loved every minute of it. The software is incredible but there is one thing that is better! The customer service is incredible. I know of nothing to compare it with. Seriously. I've had several issues, some caused by me and some not. The way they handle the situations is just amazing. They are first and foremost very professional. They actually care about what you are going through and make a conscious effort to fix things to your satisfaction. Most customer service reps just want to get you off the phone. Not these guys. They are in for the long haul if that's what it takes. It mostly only takes a few minutes but I have never felt rushed. I have never felt as if I was a bother to them or if they would rather be anywhere else in the world. No, none of that. I haven't seen this amount of professionalism in any other company. Period!
Pros
The software was easy to learn. I jumped right in and had very little direction beforehand. It is easy to maneuver. Trust me when I say there is no better software out there. Not for us. We are a semi-tractor & trailer repair shop and without the software we would be lost.
Cons
I honestly cannot think of anything that I disliked about this software. I know that sounds absurd but it's true!
Used

Daily

for

2+ years

Review Source
Overall rating
Value for Money

Ease of Use

Customer Support Software
Totally satisfied with the software and support and its help us manage and grow our business.
Reviewed on 2018-02-16
Pros
Great product just like anything you will have to learn how to use it but it's worth the time invested.
It's a very reliable software and always works, we like how the Carfax function works and auto populates the Vin and all of the vehicles information this function is very helpful. The work order screen is very friendly allows you to do multiple functions without having to switch screens.
We like the email and text function for easy communication with our customers. We also enjoy the one click service packages that really save time when writing your work orders. The reporting side of the software is very good and they continue to add new reports overtime.
We research many different POS systems and by far for the price we felt Autofluent offered the best value for the price.
We also appreciate the high level of customer support whenever we have a question.
Cons
If there was anything it would be that the system setting tabs in the set up menu area are not expandable at least on our end. Hopefully thats not an issue on our end? Other than that not much to complain about with the software.
Response from TABS
Thank you for taking the time to write this great review. We're happy to hear you appreciate the software and support!
AutoFluent FAQs
Below are some frequently asked questions for AutoFluent.
Q. What type of pricing plans does AutoFluent offer?
AutoFluent offers the following pricing plans:
Starting from: US$95.00/month
Pricing model: Subscription
Free Trial: Available
$95 a month - including support and training
Q. Who are the typical users of AutoFluent?
AutoFluent has the following typical customers:
Self Employed, 2-10, 11-50, 51-200, 201-500, 501-1,000, 1,001-5,000
Q. What languages does AutoFluent support?
AutoFluent supports the following languages:
English
Q. Does AutoFluent support mobile devices?
AutoFluent supports the following devices:
Q. What other apps does AutoFluent integrate with?
AutoFluent integrates with the following applications:
QuickBooks Online Advanced
Q. What level of support does AutoFluent offer?
AutoFluent offers the following support options:
Email/Help Desk, Phone Support, Chat
Related categories
See all software categories found for AutoFluent.