TOPS [ONE]
All-in-one app for managing condos, HOAs & co-ops
About TOPS [ONE]
TOPS [ONE] is a fully web-based community association management platform for management companies and self-managed communities that helps unify accounting and management teams, aiding them with every aspect of Condo, HOA and CO-OP management The solution provides an all-in-one management experience that enables users to combine their portfolio, accounting, management and automation tools in a single platform.
The TOPS [ONE] platform allows users to manage and track their entire portfolio at once, with insight into all financials, tickets, owners and properties. Users are able to access all contacts related to a property (such as owners, renters, and developers) and view details, history, and activity on each lot/unit. Users can manage multiple communities and view their KPIs, create custom fields, and import homeowners with account history. The 'Master Bank' feature provides a global overview of all accounts within a portfolio on a single screen.
TOPS [ONE]'s accounting engine with built-in automation and customizability allows users to manage all incoming funds from homeowners, automate charges, manage vendors, and more. Managers can process payments, whether from bank lockbox, online or physical checks, and print checks. The customizable general ledger helps track all transactions and provides a view into the communities' financial health. Additional accounting features include late and NSF fees, charges, invoices receipts, customizable templates, and more.
The solution's management features allow users to enter a complete ticket by selecting the location and the code (including the specific CC&R article), and snapping a picture. Managers can log requests for service, review and approve requests, and escalate tickets. Users can create and track maintenance tickets from various levels, such as preventative maintenance to larger projects, and assign work to on-site maintenance teams or vendors. TOPS [ONE] can be automated to send out scheduled reports to directors, as well as the scheduling of late fees, all homeowner communications, and more.
Pricing starting from:
US$375.00/month
Free Version

Free Trial

Subscription
Top 5 alternatives to TOPS [ONE]
Key benefits of TOPS [ONE]
TOPS [ONE] delivers anywhere access thanks to its fully web-based platform so users and teams can access data from the cloud via any desktop, smart phone, or tablet device.
The solution's Google-like search functionality allows users to quickly search and find information on anything such as homeowners, accounts, vendors or check numbers.
Create all communications such as letters and statements using Word templates thanks to TOPS [ONE]'s native plugin for Microsoft Word.
TOPS [ONE] provides users with an accounting engine that enables users to automate all their accounting processes such as accounts receivables, accounts payable, general ledger, and more.
Log service requests from homeowners, assign work to a vendor or maintenance employee, and keep track of all work activity history with TOPS [ONE].
Typical Customers
Freelancers

Small Businesses

(2-50)

Mid-size Companies

(51-500)

Large enterprises

(500 and more)
Pricing starting from:
US$375.00/month
Free Version

Free Trial

Subscription
Top 5 alternatives to TOPS [ONE]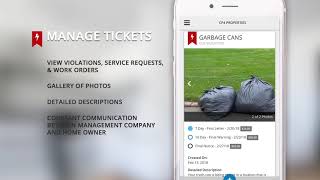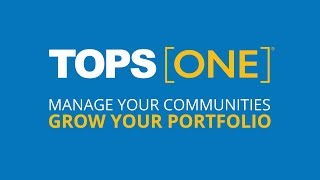 Total features of TOPS [ONE]: 47
API
Accounting Software
Alerts/Notifications
Billing & Invoicing
Budgeting/Forecasting
Calendar Management
Client Portal
Committee Management
Communication Management
Contact Management Software
Customizable Reports
Customizable Templates
Document Management Software
Dues Management
Electronic Payments
Expense Tracking
Financial Management Software
General Ledger
HOA Violation Enforcement
Inspection Management
Insurance Management
Invoice Management
Late Fee Calculation
Lease Management Software
Maintenance Management Software
Maintenance Scheduling
Member Communities
Member Database
Member Directory
Member Portal
Membership Management Software
Owner Portal
Payment Processing Software
Portfolio Management
Property Database
Rent Tracking
Reporting & Statistics
Reporting/Analytics
Residential Properties
Task Management Software
Tax Management Software
Template Management
Tenant Portal
Tenant Tracking
Third Party Integrations
Website Management
Work Order Management
Quickbooks Online
#1 Alternative to TOPS [ONE]
QuickBooks Online is a complete small business accounting solution which allows users to manage all their financial...
Communication Centers
#2 Alternative to TOPS [ONE]
Communication Centers is a web-based solution designed to help organizations streamline communication with customers,...
AppFolio Property Manager
#3 Alternative to TOPS [ONE]
AppFolio supports modern residential, commercial, student housing, and HOA property managers with online portals and...
Buildium
#4 Alternative to TOPS [ONE]
Web-based system that streamlines processes for property managers of rental properties, condos, and homeowners...
Customer Support Software
---
Already have TOPS [ONE]?
Software buyers need your help! Product reviews help the rest of us make great decisions.
Showing 5 reviews of 84
Industry: Nonprofit Organization Management
Company size: 11-50 Employees
Used

Daily

for

1+ year

Review Source
Overall rating
Value for Money

Ease of Use

Customer Support Software

Likelihood to recommend

9.0

/10
Tops One for all your HOA accounting needs
Reviewed on 12/25/2021
Tops One has been instrumental for us as an entire office. We no longer have to rely on just our...
Tops One has been instrumental for us as an entire office. We no longer have to rely on just our finance department to assist homeowners with financial information. Everyone has been cross trained on the Tops One system and can easily pull a statement or look up a balance
Pros
The software is easy to use , uses simple language ( which is important for those not in finance or accounting ) and can produce a statement with just a few key strokes. Statements can be printed or emailed depending on the homeowners preference.
I cannot say enough about the customer service aspect as well. When we decided to switch from QuickBooks our account representative was instrumental in helping us set up our system. Whenever we have needed customer service they are always available.
Cons
We actually set up our system at the start of the Covid pandemic. That made training a little difficult as everything had to be done virtually. Our trainer was prepared much more so than we were. I wish we had known how much pre-work actually needed to be done before we made the migration to Tops One. I think we would've worked a little harder to make sure that our #DATA imports were cleaner than they were.
Overall rating
Ease of Use

Customer Support Software
Reviewed on 10/6/2011
I am the Vice President and General Manager for Steward Property Services, Inc., located in...
I am the Vice President and General Manager for Steward Property Services, Inc., located in Petaluma, CA. We are a small company that has a strong local reputation that has been built over twenty years of managing Common Interest Developments from Ukiah to San Rafael. We have a unique take on managing HOAs and prefer to work toward a sense of community, rather than as enforcement agents. However, every Board we manage and every Association we manage is unique and they all have their own priorities, which we try our best to satisfy.
When I started with this company over five years ago, the housing market was just beginning to crash. Foreclosures and bankruptcies were skyrocketing and our operational needs were multiplying faster than we could handle. This is when I started looking to consolidate our operations and use technology to increase efficiency in an effort to lower costs for our clients. We had been using software that was geared toward rental properties and creating customized communication using the Microsoft Office Suite.
As our business began to grow, and I was promoted into more of a supervisory position, there was no way for me to provide accurate or constructive oversight because everyone seemed to be "doing their own thing." When I came across TOPS software, a light came on. All of their features fit all of our needs and everything was bundled into one nice package, which also functioned as a centralized database for all of the information that we had previously had to create individual folders for. The housing of data was also attractive because much of this could be kept digitally and we could begin decreasing our paper use. I researched many competitors and many different types of programs.
The answer, for me, quickly became obvious. TOPS would be the perfect solution for our company. I worked with their sales department and expressed my problems and needs and they were able to define for me how TOPS could help. In 2008, we purchased the software with the intent of having our accounting department test it and become familiar with it, before introducing it to the management side of the house. This was incremental because we were able to first import all of our accounts from our previous software. Because we had our own unique needs, we chose to transfer all of the data ourselves, but if you are not that tech savvy, TOPS has conversion specialists that can work with almost any kind of database and get you up and running quickly.
TOPS worked with our banks so that we could import and export data for check writing, reconciliations, deposits and all other areas of accounting functionality. We were able to convert all of our properties as their fiscal cycles renewed and began 2009 with all of our accounts in TOPS. The hiccups were minimal, but I was sure to purchase their unlimited tech support, and this has become incredibly valuable, as we have progressed. They are so friendly and helpful with minor user issues, but when our server crashed and we had to convert all of our backup data to our new server, TOPS worked overtime to make sure that we were up and running as soon as possible. If we want to customize any of our operations within TOPS, tech support and their training department have helped us get there.
The training classes are fantastic and easy for any user, no matter the skill level. Once we transitioned this software to our managers, the reaction was immediate. Our managers actually thanked me for making their jobs easier. I helped them set up their form letters and CC&R tables, and suddenly their mountain of violation work had been streamlined and easily archived for reference. The reports helped them manage work orders, phone calls, and follow up on violations. I helped accounting set up their delinquency tables and tracking became a breeze. It was easier to train my successor on the delinquency process because TOPS streamlines and tracks the progress of the delinquency and using the job streaming function allowed the delinquency process to be completed in a matter of minutes, versus what used to take us three or four days.
I could type on and on about how valuable TOPS has been to our business. They are constantly evolving the software and developing partnerships with companies such as AtHomeNet.com, who created and manages Association websites for us and is able to work with TOPS so that users can securely login to their Association site and view pertinent accounting data and reports. I try to attend any seminar TOPS offers because their products keep evolving so rapidly, I don't want to miss out.
If you are thinking of transitioning software, I highly recommend TOPS for both small and large management companies. If you would ever like to speak with me about our experience, someone at TOPS can put you in touch with me. Or use the contacts listed in this review. I could not be happier with the choice we made. I hope you have success too!
Industry: Real Estate
Review Source
Overall rating
Value for Money

Ease of Use

Customer Support Software

Likelihood to recommend

2.0

/10
Full of Bugs and No Support
Reviewed on 7/3/2016
Pros
The vendor has very nice and professional employees
Cons
The software is full of bugs and links mysteriously stop working. Print to screen might work on some reports, not others. Email a homeowner, no way. Cant open that link at all. After upgrading and buying the new Professional a year and a half ago the product is obsolete and not supported. They want us to pay additional $ a month to fix the errors in their program.
Response from Andrea
Jay, thank you for taking the time to share your opinion on TOPS. Feedback like yours keeps us honest and allows us to continually improve both as a company, and in our products themselves.
I am very sorry to hear that you have had some problems using the software. As I am sure you know, every software program (even the big boys!) have issues that sneak their way into the code. This is why we offer the monthly support plan for clients not only to have access to our world class support team, but also to provide you with regular updates to the software. More than just new features, these semi-annual updates include many bug fixes.
Because the product that you purchased is a stand-alone Windows product, the only way we can afford to provide the level of support we offer is to charge a monthly maintenance fee.
With our newer, SAAS products, support and updates are included in the monthly fees, but there is no way to do that for a one-time purchase. So yes. We do charge for support. But we do offer scaled plans that make it cost effective for smaller organizations like yours. And I promise you, it's worth the price.
Industry: Accounting Software
Company size: 11-50 Employees
Used

Daily

for

6-12 months

Review Source
Overall rating
Value for Money

Ease of Use

Customer Support Software

Likelihood to recommend

10.0

/10
Greg's Review
Reviewed on 11/29/2018
I came into the property management business knowing nothing and tops for sure eased me into the...
I came into the property management business knowing nothing and tops for sure eased me into the business of it and now I am pretty comfortable with it all.
Pros
Easy to access and learn. Keeps everything organized I need on a daily basis.
Cons
Hard to edit tablets in the soft system. Wish you could do it instead of having to add a whole new one
Response from TOPS Software
Thank you for your feedback, Greg! It¿s always great to hear from those who are brand new to the industry, and we¿re so glad that using TOPS has helped your learning experience! Don¿t forget that you can access our educational content to learn more, not just about our software, but about industry best practices and know-how, on our website at www.topssoft.com.
Industry: Management Consulting
Company size: Self Employed
Used

Daily

for

1-5 months

Review Source
Overall rating
Value for Money

Ease of Use

Customer Support Software

Likelihood to recommend

10.0

/10
Breath of Fresh Air
Reviewed on 11/27/2018
Like with TOPS Pro, it is an all-in-one solution. It has improved 100 fold by becoming web based...
Like with TOPS Pro, it is an all-in-one solution. It has improved 100 fold by becoming web based with the portals. It was a bit of a learning curve switching from Pro to One but it is still very user friendly. I use it as a selling feature when pitching to potential clients. I love it and have no regrets on my purchase!
Pros
I love that it is cloud based and appealing to the eye. It is easy to add Board members as additional users and control what they can alter. Owners can log in to portals which makes it an inexpensive alternative to websites. I love all the partner integrations that they offer.
Cons
I wish it would further integrate with their partners. I also wish that it would remember some of the ways you like to toggle things instead of having to do it every time you log in.
Response from TOPS Software
What a delightful review Kathy! Thank you so much for your kind words! We do have much more planned for our industry partnerships in the future, so keep an eye on those product update notices!
TOPS [ONE] FAQs
Below are some frequently asked questions for TOPS [ONE].
Q. What type of pricing plans does TOPS [ONE] offer?
TOPS [ONE] offers the following pricing plans:
Starting from: US$375.00/month
Pricing model: Subscription
Free Trial: Not Available
Prices start at $350/month for up to 500 doors. After that, it's a per-door price. Volume discounts are available for larger organizations.
Q. Who are the typical users of TOPS [ONE]?
TOPS [ONE] has the following typical customers:
Self Employed, 2-10, 11-50, 51-200, 201-500, 501-1,000, 1,001-5,000
Q. What languages does TOPS [ONE] support?
TOPS [ONE] supports the following languages:
English
Q. Does TOPS [ONE] support mobile devices?
TOPS [ONE] supports the following devices:
Q. What other apps does TOPS [ONE] integrate with?
TOPS [ONE] integrates with the following applications:
Microsoft Excel, Microsoft Word
Q. What level of support does TOPS [ONE] offer?
TOPS [ONE] offers the following support options:
Email/Help Desk, Phone Support, Chat
Related categories
See all software categories found for TOPS [ONE].