About Factorial
Factorial is a powerful software for small and medium-sized companies aimed to simplify the most tedious human resources tasks like payrolls or vacations. We've managed to mix the personal, hands-on treatment of a labor consultant with the secure and fast-paced technology of a startup to bring businesses a powerful service like no other.
Factorial HR
Simplify the management of absences, holidays, and sick leaves within the company, enabling users to accept or reject employee time off requests, update the company's calendar in real time, and much more. Managers can set up the holidays of their region, manage sick leaves and upload documentation, and receive notifications on any other requests or absences.
Factorial Payroll
Factorial Payroll can automate your company's payroll process, taxes, Social Security and much more. Everything is stored in their online profile. Don't worry, our database will synchronize and apply the necessary conditions before creating the contract for every employee automatically. On top of that, any change or action on the employee status will be notified to the public entities instantly and it will also generate all the documents needed to declare taxes.
Factorial Documents Manager
Factorial Document Manager securely stores all important documentation in the cloud, allowing users to attach documents that correspond to a specific employee, such as contracts, identity documents, payslips, sick leave documents, and more. Companies can also create an organizational chart using the chart generator for an updated look of the company.
Pricing starting from:
$4.75/month
Free Version

Free Trial

Subscription
Key benefits of Factorial
Simplify the management of absences, holidays, and sick leaves within the company with Factorial's time off manager.
Securely store and manage all company documents such as contracts, identity documents, payslips, and sick leave documents in the cloud, accessible anytime, from anywhere.
Automate the company's payroll management process, create contracts, manage taxes and social security, as well as the communication between the public administrations and organizations.
Get reliable data on what is happening within the company with custom reports for absenteeism, salaries, turnover rate, and more with a click.
Offer employees a customized, flexible compensation plan and social benefits such as health insurance, meal and transport cards, gym access, and more.
Typical Customers
Freelancers

Small Businesses

(2-50)

Mid-size Companies

(51-500)

Large enterprises

(500 and more)
Markets
Andorra, Argentina, Austria, Belgium, Brazil , Switzerland, Chile, Germany, Spain, France, United Kingdom, Ireland, Italy, Mexico, Portugal, United States and 11 others
Supported Languages
English, French, German, Italian, Portuguese , Russian, Spanish and 2 others
Pricing starting from:
$4.75/month
Free Version

Free Trial

Subscription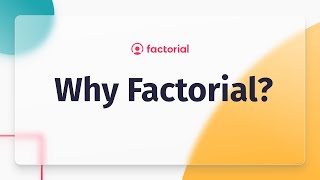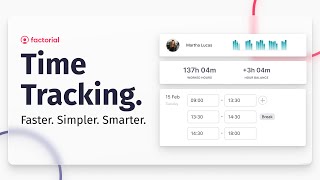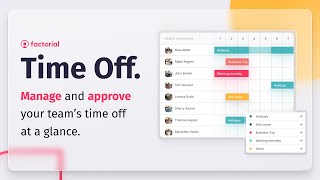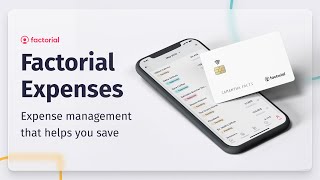 Total features of Factorial: 373
"What If" Scenarios
360 Degree Feedback Software
401(k) Tracking
API
Absence Management
Academic/Education
Access Controls/Permissions
Account Reconciliation
Accounting Integration
Accounting Software
Activity Dashboard
Activity Tracking
Activity/News Feed
Ad hoc Reporting
Advertising Management
Alerts / Escalation
Alerts/Notifications
Anonymous Feedback
Applicant Tracking Software
Application Management
Appraisal History
Approval Process Control
Approval Workflow
Archiving & Retention
Assessment Management
Asynchronous Learning
Attendance Management
Attendance Tracking Software
Audience Targeting
Audio/Video Messaging
Audit Management
Audit Trail
Auto Scheduler
Automated Routing
Automated Scheduling
Automatic Time Capture
Availability Management
Background Screening
Benchmarking
Benefits Management
Billable & Non-Billable Hours
Billable Items Tracking
Billing & Invoicing
Biometric Recognition
Biometrics
Blended Learning
Bonus Management
Boolean Search
Brainstorming
Budget Management
Budgeting/Forecasting
Built-in Course Authoring
CRM Software
Calendar Management
Calendar Sync
Campaign Management Software
Candidate Management
Candidate Profiles
Candidate Tracking
Career Development
Careers Page
Case Management Software
Categorization/Grouping
Certification & Licensing
Certification Tracking
Charting
Chat/Messaging
Check Printing
Clock In / Out
Collaboration Tools
Commenting/Notes
Commission Management
Communication Management
Compensation Management Software
Compensation Plan Modeling
Compensation Statements
Competency Management
Compliance Management
Compliance Tracking
Configurable Workflow
Contact Management Software
Content Library
Content Management System (CMS) Software
Content Marketing Software
Continuous Feedback
Contractor Management Software
Corporate Card
Corporate/Business
Course Authoring Software
Course Management
Course Tracking
Credit Card Management
Currency Conversion
Customizable Branding
Customizable Fields
Customizable Forms
Customizable Questions
Customizable Reports
Customizable Templates
Customization
Dashboard Software
Data Capture and Transfer
Data Import/Export
Data Storage Management
Data Visualization Software
Design Management
Digital Signage Software
Direct Deposit
Discount Management
Discussions / Forums
Document Management Software
Document Storage
Drag & Drop
E-Verify/I-9 Forms
ERP
Electronic Forms
Electronic Payments
Electronic Signature
Email Alerts
Email Management Software
Email Marketing Software
Email Reminders
Email Templates
Employee Communities
Employee Database
Employee Directory
Employee Engagement Software
Employee Handbook
Employee Management
Employee Onboarding
Employee Photos
Employee Portal
Employee Profiles
Employee Reward Programs
Employee Scheduling Software
Employee Self Service
Employee Time Tracking
Engagement Tracking
Estimating
Event Calendar
Expense Claims
Expense Tracking
FDA Compliance
FMLA Administration
Feedback Management
File Sharing Software
Financial Analysis
Float Pool Management
Forecasting
Forms Management
Fraud Detection
Full Text Search
GPS
Gamification Software
Goal Management
Goal Setting / Tracking
Gradebook Software
HR Management
HR Metrics Library
Incentive Management
Incident Management Software
Incident Reporting
Individual Development Plans
Interactive Elements
Internal Chat Integration
Internal HR
Internal Talent Mobility
Interview Management
Interview Scheduling
Invoice Management
Invoice Processing
Job Application Management
Job Description Management
Job Management
Job Marketplace
Job Posting
Job Requisition
Job Scheduling
Job Search/Filter
Jobs Board
Knowledge Management Software
Labor Cost Reporting
Labor Forecasting
Labor Management
Learner Portal
Learning & Development
Learning Management
Learning Paths/Tracks
Leave Policy Management
Leave Tracking
Live Streaming Software
Manager-to-Peer Recognition
Market Data Analysis
Mass Notifications
Matching Engine
Mention Management
Mentorship
Merit/Bonus Management
Messaging
Messaging/Shift Dispatching
Mileage Tracking
Milestone Tracking
Mind Maps
Mobile Access
Mobile Alerts
Mobile App
Mobile Learning Software
Mobile Receipt Upload
Mobile Time Tracking
Monitoring
Multi-Channel Communication
Multi-Country
Multi-Currency
Multi-Language
Multi-Location
Multi-State
Multimedia Support
Multiple Billing Rates
Newsletter Management
Nominations
Offline Time Tracking
On-going Performance Tracking
Onboarding Software
Online Punch Card
Online Scheduling
Online Time Clock
Online Time Tracking Software
Org Chart Creation
Organizational Charting
Orientation Workflow Management
Overtime Calculation
Payment Processing Services Integration
Payroll Management
Payroll Outsourcing
Payroll Reporting
Peer Appraisals
Peer-to-Peer Recognition
Performance Appraisal
Performance Management
Performance Metrics
Performance Review Management
Personalization Software
Pipeline Management
Policy Management Software
Predictive Analytics Software
Predictive Modeling
Process/Workflow Automation
Progress Reports
Progress Tracking
Project Management Software
Project Time Tracking
Project Tracking Software
Projections
Publishing / Sharing
Pulse Surveys
Punch card
Question Library
QuickBooks Integration
Quizzes
Rater Selection
Ratings / Reviews
Read Receipts
Real Time Analytics
Real Time Data
Real Time Monitoring
Real Time Notifications
Real Time Reporting
Real-Time Chat
Real-time Updates
Receipt Management
Recognition Tracking
Recruiting Firms
Recruitment Management
Recurring/Subscription Billing
Reference Checking
Referral Tracking
Reimbursement Management
Reminders
Reporting & Statistics
Reporting/Analytics
Resource Allocation & Planning
Resource Management Software
Resume Database
Resume Parsing
Resume Posting
Resume Search
Resume Storage
Review Cycle Tracking
Rewards Catalog
Rewards Management
Rewards Points
Risk Analytics
Risk Assessment
Role-Based Permissions
SCORM Compliance
SMS Messaging
SSL Security
Salaried Employee Tracking
Salary History
Salary Planning
Sarbanes-Oxley Compliance
Schedule Distribution
Scheduled Messaging
Scheduling Software
Screensaver Management
Secure Data Storage
Self Assessment
Self Scheduling
Self Service Portal
Self-Learning
Shift Scheduling
Shift Swapping
Sick Leave Tracking
Single Sign On Software
Skills Assessment
Skills Tracking
Smart Chart Legend
Social Learning
Social Media Integration
Social Recognition
Social Recruiting
Space Reservation
Spend Analysis
Spend Control
Succession Management
Succession Planning Software
Summary Reports
Survey/Poll Management
Surveys & Feedback
Synchronous Learning
Tagging
Talent Acquisition
Talent Management Software
Task Management Software
Task Progress Tracking
Task Scheduling
Tax Compliance
Team Calendars
Template Management
Templates
Tests/Assessments
Third Party Integrations
Time & Attendance
Time & Expense Tracking
Time Clock Software
Time Off Management
Time Off Requests
Time Tracking Software
Time Tracking by Client
Time Tracking by Project
Timer
Timesheet Management
Training Management
Trend Analysis
Turnover Tracking
Two-Factor Authentication
User Management
Vacation/Leave Tracking
Variable Workforce
Version Control
Video Conferencing Software
Visitor Management Software
Visual Analytics
Visual Notifications
W-2 Preparation
Wage Garnishment
Web Forms
Weighted Performance Measures
Workflow Management Software
Workstation Tracking
eCards
eCommerce Management
eLearning Companies
Bizneo HR
#1 Alternative to Factorial
Bizneo HR is a cloud-based HR suite comprised of 11 modules designed to help users manage the entire employee lifecycle,...
Sesame HR
#2 Alternative to Factorial
Secure, multi-device human resources software that helps companies to optimise and centralise people management...
Cezanne HR
#3 Alternative to Factorial
Cezanne HR is a robust, secure and feature-rich Cloud HR system for mid-sized and growing businesses. Especially...
Poplee Goals & Reviews
#4 Alternative to Factorial
Poplee Goals & Reviews is a cloud-based software designed to help gain insights into various business and operational...
Customer Support Software
---
Already have Factorial?
Software buyers need your help! Product reviews help the rest of us make great decisions.
Showing 5 reviews of 201
Industry: Human Resources
Company size: 501-1,000 Employees
Used

Daily

for

6-12 months

Review Source
Overall rating
Value for Money

Ease of Use

Customer Support Software

Likelihood to recommend

7.0

/10
It was not good for a large organization
Reviewed on 9/30/2022
Pros
To be honest, they have improved a lot since the last time I used the platform.
Probably the part I liked the most was the Employee profile
Cons
The platform was not very estable when you have too many employees on it. But I used few years ago, I am sure that they have fixed a lot of the old issues
Industry: Real Estate
Company size: 501-1,000 Employees
Used

Weekly

for

1-5 months

Review Source
Overall rating
Ease of Use

Customer Support Software

Likelihood to recommend

8.0

/10
All rounded and good HR system
Reviewed on 10/18/2022
overall it's the best HR system we had so far, and i would recomend it to anyone who don't know how...
overall it's the best HR system we had so far, and i would recomend it to anyone who don't know how to manage his employees
Pros
From the customer side the tool is very easy to use, the interface guide the operations needed to do and it can also be used to create companies surveys
Cons
the surveys could be more fine tuned, currently the feature is a nice to have but should be improved to be more scalable
Industry: Education Management
Company size: 1,001-5,000 Employees
Used

Daily

for

6-12 months

Review Source
Overall rating
Ease of Use

Likelihood to recommend

10.0

/10
Review
Reviewed on 11/14/2022
Pros
A great and easy tool for clocking in and out. Plus you can find all the employees info, great calendar and you can keep track of all you previous timings. Plus I love the fact that it stores all your company documents such as payrolls. This way I can find them whenever I want without requesting them from HR
Cons
The mobile version bugs sometimes when using the slider to clock in or out
Industry: Mechanical or Industrial Engineering
Company size: 10,000+ Employees
Used

Daily

for

1-5 months

Review Source
Overall rating
Value for Money

Ease of Use

Customer Support Software

Likelihood to recommend

10.0

/10
Easy Staff Managment Through Factorial
Reviewed on 5/11/2022
As of now, the Factorial Application is running smoothly and meeting all desired expectations in my...
As of now, the Factorial Application is running smoothly and meeting all desired expectations in my business unit. Staff is much pleased with the software as they no longer need to visit my office to submit their leave forms physically as the application enables them to request these through the system. Likewise, never missed my tasks and not had any arguments with my subordinates with regard to their day-offs. All the above achievements emerged thanks to Factorial Software. You will never regret owning this software because this will help to save your human assets in the company.
Pros
One of the best aspects of the Factorial app is its handy Dashboard. This provides a great helicopter view to senior staff with regard to identifying many activities such as upcoming events, pending tasks, upcoming holidays, and community posts. The Dashboard is in blocked shape with enlarged text, which helps users to quickly capture the eyes of the user without missing any activity! Furthermore, the users can easily install many user-friendly applications that integrate with Factorial through a few clicks. Some of the great features you can enjoy using these apps are Goals, reviews, surveys, training and etc. Another superb plus point is users can integrate the mailboxes, including outlook. If somebody thinks this is an exaggeration; I must tell you that you should try their free version before purchasing this! You will surely be mesmerized by your output!
Cons
So far, I did not experience any issues, since I have been using limited features yet but there are many other areas to capitalize on. There are abundant capabilities this App has but I am yet to experience any misbehaves of this app. In a nutshell, there are literally zero issues for me as of now!
Industry: Marketing & Advertising
Company size: 51-200 Employees
Used

Daily

for

1+ year

Review Source
Overall rating
Value for Money

Ease of Use

Customer Support Software

Likelihood to recommend

10.0

/10
Factorial for our changing process
Reviewed on 8/13/2020
We use to make the payrolls with a company and for me this process was terrible, was that time of...
We use to make the payrolls with a company and for me this process was terrible, was that time of the month when i really not wanted to be on. Now all this process is really easy and the communication with payroll staff is vry clear and fluid so any doubt it´s solved at the moment.
Pros
What we like the most was how easy is understand the platform and used. There´s no one who can not be able to find what they need or registered in the platform.
How easily is complete the payroll process and how attent are the payroll staff.
That i can use the platform for more than just one use, as example: payroll, recruitment, as documentary, to share documents with the employees, etc...
Cons
What i like least is that in the lead product that i think is the payroll i mis some usabilities as do changes directly in the payroll when are ready, like last minute changes that make the process return to scratch. Will be more easy if i can do it online.
I really miss create differents document folders. I think that right now you have it but it´s a differente package.
Factorial FAQs
Below are some frequently asked questions for Factorial.
Q. What type of pricing plans does Factorial offer?
Factorial offers the following pricing plans:
Starting from: $4.75/month
Pricing model: Free Version, Subscription
Free Trial: Available
Essential: $4 per user/month Business: $5 per user/month Enterprise: Contact Factorial for details
Q. Who are the typical users of Factorial?
Factorial has the following typical customers:
2-10, 11-50, 51-200, 201-500, 501-1,000
Q. What languages does Factorial support?
Factorial supports the following languages:
English, French, German, Italian, Portuguese, Russian, Spanish
Q. Does Factorial support mobile devices?
Factorial supports the following devices:
Android (Mobile), iPhone (Mobile), iPad (Mobile)
Q. What other apps does Factorial integrate with?
Factorial integrates with the following applications:
Gmail, Google Calendar, Google Contacts, Google Docs, Greenhouse, Greenhouse PM, Microsoft Excel, Microsoft Outlook, Slack, Teamtailor, Workable, Workable Zone, Zapier
Q. What level of support does Factorial offer?
Factorial offers the following support options:
Email/Help Desk, FAQs/Forum, Knowledge Base Software, Phone Support, Chat
Related categories
See all software categories found for Factorial.