Business management for the health & fitness industry
About WellnessLiving
WellnessLiving is an all-in-one online booking, resource scheduling, lead generation, and reporting solution for health and wellness focused businesses. Designed for wellness establishments including yoga studios, spas, salons, personal training, fitness gyms, pilates studios, and dance clubs, WellnessLiving provides the tools users need to manage day-to-day business tasks, employees, memberships, sales, marketing, and more.
The frontend customer experience allows clients to book classes or treatments online via the Android and iOS native mobile apps, Facebook, or directly through the automatically generated WellnessLiving.com directory listing. Customers can use the WellnessLiving mobile app to book appointments, pay for services, and write reviews, as well as share their experiences on Facebook. Once bookings are made, notifications and confirmations are automatically sent to customers and staff through SMS or email, and post-booking communication is facilitated with the SMS feature.
From the WellnessLiving backend, employees and management can manage class or event schedules by synchronizing data across all platforms so that schedules are always up-to-date. Users can build their online store using the WellnessLiving wizard and start selling online instantly with a POS feature which facilitates credit card processing, recurring payments, and automatic membership withdrawals. Employers can also use staff management tools to schedule shifts, manage payrolls, track staff performance, calculate pay, and more.
Pricing starting from:
US$89.00/month
Free Version

Free Trial

Subscription
Key benefits of WellnessLiving
WellnessLiving helps attract and maintain customers using gamification features such as loyalty programs and incentive based rewards. Customers can gain points for actions such as booking online, referring a friend, and sharing reviews, and those with the highest scores are displayed on a leaderboard.
Automate workflows for simple day-to-day business tasks including automatic membership renewals, recurring payments, email and SMS notifications, and marketing. All automations can be customized and turned on or off when required.
The incentivized customer reviews program helps encourage customers to provide feedback which is automatically published across the web. Positive reviews get showcased on the organization's WellnessLiving listing.
Advanced reporting with 'quickstats' allows users to gain insight into their business at the click of a button. Generate reports on sales, tax, first visits, recurring visits, and more to understand overall business performance.
Spread the word with WellnessLiving's marketing tool which allows users to generate, deploy, and track automated mobile, email, and SMS campaigns. WellnessLiving provides a custom website for organizations which is automatically optimized for search engines, to increase Google ranking and visibility to new local customers.
Typical Customers
Freelancers

Small Businesses

(2-50)

Mid-size Companies

(51-500)

Large enterprises

(500 and more)
Markets
Australia, Canada, United Kingdom, United States
Supported Languages
English
Pricing starting from:
US$89.00/month
Free Version

Free Trial

Subscription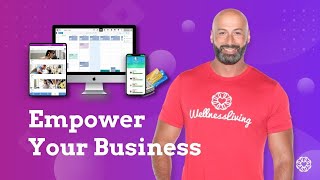 Total features of WellnessLiving: 185
ACH Payment Processing
API
Access Controls/Permissions
Accounting Software
Activities Booking
Activity Dashboard
Activity Tracking
Alerts/Notifications
Application Management
Appointment Management
Appointment Scheduling Software
Assessment Management
Attendance Management
Attendance Tracking Software
Automated Responses
Automated Scheduling
Availability Management
Barcode/Ticket Scanning
Belt Ranking Classification
Billing & Invoicing
Booking Management
Booking Notes
Booth Rental Management
CRM Software
Calendar Management
Calendar Sync
Calendar/Reminder System
Call Reminders
Capacity Management
Certification Tracking
Claims Management Software
Class Management
Class Scheduling
Client Database
Client Management
Client Portal
Client Profiles
Collaboration Tools
Commission Management
Committee Management
Communication Management
Confirmation/Reminders
Contact Database
Contact Management Software
Contract/License Management
Costume Management
Credit Card Management
Credit Card Processing
Customer Accounts
Customer Database
Customer History
Customer Mobile App
Customer Support Software
Customer Surveys
Customizable Branding
Customizable Fields
Customizable Forms
Customizable Reports
Customizable Templates
Data Import/Export
Debit/Credit Card Processing
Discount Management
Document Management Software
Document Storage
Document Templates
Drag & Drop
Dues Management
Electronic Payments
Email Management Software
Email Marketing Software
Email Reminders
Email Templates
Employee Management
Employee Scheduling Software
Enrollments/Onboarding
Event Calendar
Event Management Software
Event Scheduling
Exercise Library
Facility Scheduling
Faculty/Staff Management
File Sharing Software
Financial Management Software
Fitness Assessments
For Dance Studios
For Gyms
For Martial Arts
For Salons and Spas
For Yoga/Pilates Studios
Gift Card Management
Group Reservations
Group Scheduling
HIPAA Compliant
Hybrid Trainer
In-Person Payments
In-person Trainer
Instructor Management
Inventory Management Software
Inventory Tracking
Loyalty Program
Marketing Automation Software
Member Accounts
Member Communication
Member Database
Member Directory
Member Portal
Member Types
Membership Management Software
Membership Renewals
Mobile Access
Mobile Alerts
Mobile App
Multi-Location
Multiple User Accounts
Online Booking
Online Payments
Online Registration
Online Trainer
Order Management Software
Parent/Student Portal
Patient Portal Software
Payment Processing Software
Payment Reminders
Payroll & Commissions
Payroll Management
Performance Metrics
Point of Sale (POS)
Practice Log
Practice Management
Progress Notes
Progress Tracking
Promotions Management
Purchase Order Management
Purchasing & Receiving
Rate Management
Ratings/Reviews
Real Time Data
Real Time Notifications
Real Time Reporting
Real Time Updates
Real-time Scheduling
Records Management Software
Recurring Appointments
Recurring/Subscription Billing
Referral Tracking
Registration Management
Reminders
Repertoire Management
Reporting & Statistics
Reporting/Analytics
Reputation Management Software
Rescheduling
Reservations Management
Resource Scheduling
Rewards Program
Room Booking
SMS Marketing
SMS Messaging
SMS Reminders
SOAP notes
Sales Reports
Scheduling Software
Secure Login
Self Check-in/Check-out
Self Service Portal
Social Media Integration
Staff Management
Student Management
Surveys & Feedback
Task Management Software
Task Scheduling
Team Management Software
Template Management
Third Party Integrations
Time & Expense Tracking
Timesheet Management
Training Management
Transaction History
Two-Way Communication
Vendor Management Software
Visitor Management Software
Wait List Management
Website Integration
Website Management
Meta for Business
#1 Alternative to WellnessLiving
Facebook for Business provides personalized marketing plans, industry insights, step-by-step guidance, and more.
Club OS
#2 Alternative to WellnessLiving
Club OS is a sales engagement and marketing automation platform designed to help gyms and studios of all sizes manage...
Square Virtual Terminal
#3 Alternative to WellnessLiving
Square Virtual Terminal is a cloud-based software that helps businesses process and accept payments from multiple...
Mariana Tek
#4 Alternative to WellnessLiving
Mariana Tek is an appointment scheduling tool that helps boutique fitness brands manage marketing, customer communicatio...
Customer Support Software
---
Already have WellnessLiving?
Software buyers need your help! Product reviews help the rest of us make great decisions.
Showing 5 reviews of 386
Used

Daily

for

6-12 months

Review Source
Overall rating
Value for Money

Ease of Use

Customer Support Software
While excited about the capabilities of the system, honestly, I was scared to transition.
Reviewed on 2017-12-02
Pros
Wellness Living incorporates all of the same functionality from my old system in an innovative, visual, intuitive way AND includes the functionality I had to pay extra for! I love the ease of managing schedules, adding clients, enrolling clients in classes and maintaining client information. The integrated rewards program and review process are fantastic. My staff required very little training because of the ease of use and visual nature of the system.
My clients also find the system as well as the app intuitive and easy to use. Booking classes is quick and straightforward and they can manage their own account data. They love the integrated rewards program.
Each Wellness Living team member I encounter always answers my questions and works diligently to resolve any issues I have. I love that pictures of the team are posted on the website . I like being able to put a face with a name when I speak with someone on the phone.
Since converting to Wellness Living I have cut costs, reduced the time spent maintaining the backend system, improved customer experience and increased the number of walk-in clients to classes. I am happy to be a Wellness Living Partner and highly recommend the Wellness Living Business Management Solution and the team. It has been over 6 months since I cut the cord from MindBody and I couldn't be happier with the Wellness Living business management system.
Cons
While there were some glitches in the move, I was supported by the On-Boarding support team through the migration and well after while we resolved issues. Every part of the transition and data migration was manageable. The support staff from On-Boarding calmed my fears -
he was with me from start to finish and personally made sure that any and all errors were immediately corrected.
Further, as I continue using Wellness Living, problem reports are addressed as a priority. Requests for enhancements are taken seriously and documented so that I can see the progress. If I have questions regarding functionality, I am never merely directed to documentation. A technical specialist often sends a video of the process along with a description of the process.
Response from WellnessLiving Systems
Hi Jennifer! Thank you so much for your kind review and for deciding to switch to WellnessLiving. We know how intimidating the process of changing software can be, which is why our team works so hard to make that transition easy on you. We also put a lot into ensuring that everything you need to run a fitness studio like yours is available in the program, so we are delighted to hear that you, your staff, and your clients have found such success with our features after only six months. Cheers to a great first year together!
Industry: Health, Wellness & Fitness
Company size: 11–50 Employees
Used

Daily

for

1+ year

Review Source
Overall rating
Value for Money

Ease of Use

Customer Support Software

Likelihood to recommend

10.0

/10
Wellnessliving Highly Recommended
Reviewed on 2022-03-23
The whole experience from first introductions, to knowledge sharing, sales, on-boarding, training,...
The whole experience from first introductions, to knowledge sharing, sales, on-boarding, training, data transitioning, implementation and now active usage has been a positive experience. Expectations exceeded with this company and their technology, customer services, communication and we would 1000% highly recommend Wellnessliving.
Pros
Wellnessliving delivered on their intentions for the technology and some. The website for the business end is easy to use, intuitive and the Wellnessliving team do a fantastic job of monthly tech updates and communicating these updates through various channels including videos. We love the Wellnessliving Business Elevate App. It's easy for staff to use with little or no training. Our Breathe Fitness client app, that the Wellnessliving team helped to develop, is our most favourite and effective technology. We love having happy, returning clients who can manage their own personal accounts, profiles, purchases, bookings & cancellations in advance of coming to the studio. Easy to use and keeping the technology current with the economic climate is key for us.
Cons
I honestly cannot find any fault with this technology. Easy to use and great people to work with. Very good communication.
Response from WellnessLiving Systems
Hi Annalize,
Thank you for the amazing review! We love helping Canadian businesses grow and succeed using the latest in business management software (made easy-to-use)!
You shouldn't have to spend hours training your staff and the Elevate app adds a lot of simplicity in place of complexity.
When your clients are booking services, checking their accounts and signing waivers all on their own on the branded app, that takes your company brand to a whole new level. At the end of the day, it's not just about features but the way the platform supports your business and makes your life easier. That's why so many studios are making the leap from Mindbody every year: it's really complicated to use and there's just no support for your business! We're really pleased to hear that we were able to exceed your expectations in the migration and that means a lot to us because everything we do as a company revolves around the customer. Thank you for choosing WellnessLiving!
Jenny P. (Customer Advocate)
Industry: Performing Arts
Company size: 11–50 Employees
Used

Daily

for

6-12 months

Review Source
Overall rating
Value for Money

Ease of Use

Customer Support Software

Likelihood to recommend

2.0

/10
Clunky software, dishonesty - all they care about is making the sale.
Reviewed on 2022-03-04
Shocking. Make sure you try this product before you commit to it.
Shocking. Make sure you try this product before you commit to it.
Pros
Retention reporting feature is well thought out.If your business model aligns with the system, I am sure it would be great, if it doesn't, expect headaches.
Cons
Overall culture of dishonesty. Sales team told me the software had features it didn't have. I tried to work with the software and find a way around this. I couldn't. I then tried to leave the software, this was virtually impossible, the first customer retention team member I spoke to promised they would create a feature to fix the issue I had within the month & that they would get back to me, they did not get back to me and I had to follow up. This happened several times until finally I ended up being allocated to someone else. This person organised a 50% refund for me, which I am grateful for. They advised that all I had to do was re enter my card details into WL and then they would organise the refund. I did this in good faith. I was then advised that if I did not agree to continue with wellness living, I would not be given the 50% refund which had already been agreed upon! I was extremely angry about this. To receive the 50% refund, I have had to agree to stay with the software with no date to which the issue I raised would be fixed.
The software is slow and clunky (2021 Macbook Pro). It regularly has glitches. It takes our customers to our competitors booking form instead of ours, if they have previously logged in with them and not cleared their cache/cookies in between. Our customers find the booking workflow/process extremely confusing which has cost us sales & time. Creating emails is a clunky process.
Reasons for Choosing WellnessLiving
So our customers could book their own make up classes and handle their own bookings with ease.
Reasons for Switching to WellnessLiving
Price & functionality which was advertised to me by the sales staff.
Response from WellnessLiving Systems
Hey Rosa,
As a company, it's very important to us to see long-term success with each of our customers and we do everything we can to make your transition to WellnessLiving a great one. Many of our customers are making use of our advanced client retention tools with integrated notifications, rewards and client management features that help you to use automations to keep more of your clients coming back to your business. There are a lot of features built into WellnessLiving and it's part of the reason we spend so much time understanding your needs before proceeding with account sign-up. You mentioned some very serious concerns involving your sign-up and we are looking into this. As our customer, you are our first priority and we'll do everything to make this right. I've sent you an email, please let me know when works best for a call or alternatively, you can reach me anytime on 1-888-668-7728 and we'll find a great solution, together.
Steven M. (Customer Advocate)
Industry: Health, Wellness & Fitness
Company size: 2–10 Employees
Used

Daily

for

6-12 months

Review Source
Overall rating
Value for Money

Ease of Use

Customer Support Software

Likelihood to recommend

10.0

/10
Why a High Review of Wellness Living
Reviewed on 2019-09-13
Overall, I am extremely pleased with Wellness Living. They do a great job working with those that...
Overall, I am extremely pleased with Wellness Living. They do a great job working with those that use their software. They know who is paying their bills. Our success means Wellness Living will be successful. They really look for ways to make me more successful and profitable.
Pros
As the owner of 3 Yoga Studios and used 4 different software packages to manage my businesses. Once I got use to the ways to use Wellness Living, I noticed all of the ways the designers have made moving between forms, client information, classes, and much more; I have to rate it the best that I've used.
The biggest value is the Tech Support. They are all friendly, patient, and well versed on the software. I have raised a couple of interesting questions and if they felt they did not have the correct answer, they asked for input from their team. I've called at a busy time, left a incomplete message, only to receive a call to insure that I was helped.
Lastly, each time an Update comes out, it DOES improve my ability to manage my businesses.
Cons
The only option that I have asked for was a tool / solution to manage Substitutes for Classes. I have only found one supplier do it well.
Wellness Living provides a easy system to send in requests for improvements. I have raised this with them. I sense that they will have a solution out soon.
Response from WellnessLiving Systems
Hi Clif,
Thank you so much for your review! WellnessLiving strives to be the best all in one management solution for business owners such as yourself. We have built our software based on the suggestions received from our customers, so we are happy to hear that our system is so user-friendly and that you found all the various features helpful to your business. We are proud that we have won your heart! Our support team strives to deliver solutions to all customers regardless of how complex their issues may be. We are here to ensure that your needs are met, no matter the time of day. We are always working to improve our software, and are glad to know that our efforts are helping you manage your business. Our community forum is now in beta, so please feel free to leave any comments or suggestions on this new platform. We can't wait to hear more of your great ideas! You couldn't have said it better: Your success is our success!
Jenny P. (WellnessLiving Customer Advocate)
Industry: Health, Wellness & Fitness
Company size: 2–10 Employees
Used

Daily

for

6-12 months

Review Source
Overall rating
Value for Money

Ease of Use

Customer Support Software

Likelihood to recommend

10.0

/10
Robust system and features at a reasonable price
Reviewed on 2022-06-17
Overall, WellnessLiving has been a great addition to our business. It allows us to have one...
Overall, WellnessLiving has been a great addition to our business. It allows us to have one platform to manage current members, schedule classes and events, and create a variety of purchase options for clients while also providing solid automated marketing options to continue to build our business.
Pros
This software has unlimited options and the ability to meet the needs of fitness studios. We use the class scheduling feature primarily. It is straightforward and easy to implement and maintain. If we need to change or cancel a class, the system walks you through a simple interface to cancel and sends notifications out to clients right away. Additionally, it can act as a CRM tool, allowing you to create and implement marketing campaigns, follow leads up, create visit and purchase campaigns, etc. The system makes marketing super simple and easy to implement.
Cons
The most challenging to work with is the learning curve. Because the system is so robust and has so many features, you need every minute of the three one-hour onboarding calls to set the system up. If you need to change anything in your scheduling, calendar, purchase options, etc. it can feel overwhelming as they all connect together. if you miss a piece in one area, your change does appear, or worse doesn't work the way you expect. The upside is their support team is awesome and responds quickly to requests.
Reasons for Choosing WellnessLiving
More robust system, much better for group fitness class scheduling at multiple locations.
Reasons for Switching to WellnessLiving
Onboarding assistance - one-on-one assistance to assist us in becoming familiar with the product, Marketing Platform included, and competitive pricing.
Response from WellnessLiving Systems
Hey Colleen,
Thanks for the terrific review! It's so much simpler to manage and coordinate all the different areas of your business when you have it all under one login. Just set it up, and the built-in automations handle staff access permissions, reminder emails, marketing campaigns and countless other tasks. You can then use the valuable time saved for other things. Even just 30 min time savings per day, that's an extra 3.5 hours/week or about 15 hours/month you can spend running classes, or personal training sessions, which means more money in your pocket. We're also really big on support because we want to be sure you're fully equipped to make best use of our software for your business. Please don't hesitate to reach out to our support team any time you have a question or would like a walk-through on the software. Our specialists love answering questions and they're passionate about helping businesses succeed. Thank you for choosing WellnessLiving!
Susan A. (Customer Advocate)
WellnessLiving FAQs
Below are some frequently asked questions for WellnessLiving.
Q. What type of pricing plans does WellnessLiving offer?
WellnessLiving offers the following pricing plans:
Starting from: US$89.00/month
Pricing model: Subscription
Free Trial: Not Available
Starter: $89.00/mo. Basic: $129.00/mo. Business: $159.00/mo. Enterprise: Contact WellnessLiving for pricing.
Q. Who are the typical users of WellnessLiving?
WellnessLiving has the following typical customers:
Self Employed, 2–10, 11–50, 51–200, 201–500, 501–1,000, 1,001–5,000
Q. What languages does WellnessLiving support?
WellnessLiving supports the following languages:
English
Q. Does WellnessLiving support mobile devices?
WellnessLiving supports the following devices:
Android (Mobile), iPhone (Mobile), iPad (Mobile)
Q. What other apps does WellnessLiving integrate with?
WellnessLiving integrates with the following applications:
Constant Contact, Google Calendar, Google Maps, Mailchimp, Meta for Business, Quickbooks Online, WordPress
Q. What level of support does WellnessLiving offer?
WellnessLiving offers the following support options:
Email/Help Desk, FAQs/Forum, Knowledge Base Software, Phone Support, 24/7 (Live rep), Chat
Related categories
See all software categories found for WellnessLiving.