Scalable & Easy-To-Use Quality Management Software
About QT9 QMS
Quality Management Software made easy. Connect your locations, departments and people with the QT9 QMS. Modernize quality management with interconnected modules for every business function. The QT9 QMS eliminates paper by automating compliance across teams all in one place. Drive innovation.
Automate your business processes to increase productivity, profitability and efficiency while eliminating time-consuming, error prone manual processes. QT9's flexible and scalable QMS connects your locations, departments and people with a unified platform. Take your quality management process to the next level with a user-friendly, web-based eQMS that handles ISO 13485, FDA 21 CFR Part 11 compliance for electronic signatures and 21 CFR Part 820 FDA requirements. Become paperless, compliant and extremely efficient using the built-in document control, change control and CAPA modules. QT9 QMS will modernize your business with interconnected modules that automate manufacturing process with full traceability.
The QT9 QMS is a highly modular ISO quality management system designed for use in the biomedical and pharmaceutical, medical device, food & beverage, general manufacturing and aerospace industries. Automate any ISO 9001, ISO 13485, ISO 14001, ISO 17025, AS9100, HACCP, SQF, cGMP and FDA Part 820/211 regulated quality systems.
Easily connect all your business functions. 23+ interconnected modules are included with the QT9 QMS. Save yourself time, reduce delays, prevent errors and end frustration.The all new QT9 QMS includes modules for audit management, inspections, calibrations, deviations, nonconforming products, risk management, safety incidents, corrective and preventative actions (CAPA), preventative maintenance, change management (ECR/ECN), document control, employee training, management review, customer surveys, feedback, and complaints, supplier evaluations & surveys, and web portals for both suppliers and customers.
The QT9 QMS is a web-based solution accessible from any mobile device including iPhone and Android phones. QT9 QMS software makes it easy to connect & collaborate with employees, customers & suppliers from any device. Log in online anytime, anywhere on your Mac, PC, tablet or phone to get a real-time view of your compliance items. Managing complex regulatory compliance standards has never been easier with the QT9 QMS.
Key benefits of QT9 QMS
23 Interconnected Modules
Dynamic Dashboard Grids
Automated Email Alerts
FDA 21 CFR Part 11 Compliant for Electronic Signatures
User To-Do Lists
Multi-Site Ready
Approval Management
Verification of Effectiveness
Mobile-Friendly
User-Defined Fields
Custom Branding
Integrated Report Builder
Typical Customers
Freelancers

Small Businesses

(2-50)

Mid-size Companies

(51-500)

Large enterprises

(500 and more)
Markets
Australia, Canada, Denmark, Finland, United Kingdom , Indonesia, Ireland, India, Malta, Malaysia, New Zealand, Sweden, United States and 8 others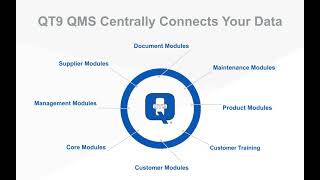 Total features of QT9 QMS: 243
API
Academic/Education
Access Controls/Permissions
Accident Investigation
Accounting Integration
Activity Dashboard
Activity Tracking
Alerts/Escalation
Alerts/Notifications
Appointment Management
Approval Process Control
Approval Workflow
Archiving & Retention
Assessment Management
Asset Lifecycle Management
Assignment Management
Asynchronous Learning
Audit Management
Audit Planning
Audit Trail
Automated Scheduling
Barcode Printing
Barcode/Ticket Scanning
Barcoding/RFID
Billing & Invoicing
Bills of Material
Blended Learning
Budget Management
Built-in Course Authoring
Built-in LMS
Business Process Control
Calibration Management Software
Calibration Scheduling
Case Management Software
Certificate/Label Printing
Certification & Licensing
Change Management Software
Client Portal
Code Enforcement Software
Collaboration Tools
Commenting/Notes
Communications Management
Complaint Management Software
Compliance Management
Compliance Tracking
Configurable Workflow
Contact Management Software
Corporate/Business
Corrective and Preventive Actions (CAPA)
Cost Tracking
Cost-to-Completion Tracking
Course Management
Create Subtasks
Customer Complaint Tracking
Customer Database
Customizable Branding
Customizable Fields
Customizable Forms
Customizable Reports
Dashboard Software
Data Import/Export
Data Visualization Software
Defect Tracking
Digital Signature Software
Disaster Recovery
Dispatch Management
Distribution Management
Document Capture
Document Check-in/Check-out
Document Classification
Document Coding & Control
Document Management Software
Document Review
Document Storage
Document Templates
Drag & Drop
ERP
Electronic Signature
Email Alerts
Email Management Software
Email-to-Task Conversion
Employee Management
Environmental Compliance
Equipment Maintenance Software
Equipment Management
Equipment Tracking
Exceptions Management
FDA Compliance
Failed Inspection Tracking
Feedback Management
File Conversion
File Management
File Recovery
File Sharing Software
Financial Management Software
For Engineering Documents
For Mechanical Equipment
Forecasting
Forms Management
Full Text Search
Gantt/Timeline View
Historical Reporting
ISO Compliance
ISO Standards Management
IT Risk Management
Idea Management Software
Image Capture
Import Tasks
Incident Management Software
Incident Reporting
Indexing
Industrial Safety Management
Inspection Management
Instrument Management
Interaction Tracking
Internal Controls Management
Inventory Control Software
Inventory Management Software
Inventory Tracking
Invoice Management
Issue Management
Issue Tracking Software
Job Management
Knowledge Base Management
Label Printing
Labeling
Learner Portal
Learning Paths/Tracks
Legal Risk Management
MES
Maintenance Management Software
Maintenance Scheduling
Material Requirements Planning
Metadata Management
Milestone Tracking
Mobile Access
Mobile Learning Software
Modeling & Simulation
Monitoring
Multi-Location
Multiple Format Support
Nonconformance Tracking
OSHA Compliance
OSHA Recordkeeping
Offline Access
Operational Risk Management
Order Management Software
Parent Task
Percent-Complete Tracking
Policy Management Software
Portfolio Management
Predictive Analytics Software
Predictive Maintenance
Preventive Maintenance Software
Prioritization
Process/Workflow Automation
Production Scheduling Software
Progress Reports
Progress Tracking
Project Management Software
Project Planning/Scheduling
Project Tracking Software
Purchase Order Management
Quality Assurance
Quality Control
Quality Management Software
Quotes/Estimates
Real Time Analytics
Real Time Data
Real Time Monitoring
Real Time Notifications
Real Time Reporting
Real-time Updates
Records Management Software
Recurring Tasks
Reminders
Report Templates
Reporting & Statistics
Reporting/Analytics
Reporting/Project Tracking
Reputational Risk Management
Resource Management Software
Response Management
Revision History
Risk Alerts
Risk Analytics
Risk Assessment
Risk Management Software
Risk Reporting
Risk Scoring
Role-Based Permissions
Root Cause Analysis
Routing
Rules-Based Workflow
SSL Security
Safety Management Software
Scheduling Software
Search/Filter
Secure Data Storage
Security Management
Self Service Portal
Self-Learning
Service History
Shipping Management
Single Sign On Software
Skills Assessment
Skills Tracking
Spreadsheet View
Status Tracking
Subcontractor Management
Supplier Management
Supplier Quality Control
Supply Chain Management Software
Survey/Poll Management
Surveys & Feedback
Synchronous Learning
Task Board View
Task Editing/Updating
Task Management Software
Task Progress Tracking
Task Scheduling
Task Tagging
Technician Management
Testing/QA Management
Tests/Assessments
Third Party Integrations
Time & Expense Tracking
Time Tracking Software
To-Do List
Traceability
Traditional Methodologies
Training Administration
Training Companies
Training Management
Training Record Management
Vendor Management Software
Version Comparison
Version Control
Version Rollback
Warehouse Management Software
Warranty Tracking
Work Order Management
Workflow Management Software
Microsoft SharePoint
#0 Alternative to QT9 QMS
SharePoint is a collaboration & content management platform which can be used to build portals, collaboration sites, &...
Greenlight Guru
#1 Alternative to QT9 QMS
Greenlight Guru helps medical device businesses create, launch, and manage custom workflow templates to streamline...
UniPoint Quality Management Software
#2 Alternative to QT9 QMS
uniPoint Quality Management Software is a cloud-based solution which helps manufacturers manage product quality...
SBS Quality Database
#3 Alternative to QT9 QMS
The SBS Quality Database is a simple, inexpensive, ISO 9001 compliant software program that allows small businesses to...
Customer Support Software
---
Already have QT9 QMS?
Software buyers need your help! Product reviews help the rest of us make great decisions.
Showing 5 reviews of 67
Industry: Medical Devices
Company size: 11-50 Employees
Used

Daily

for

2+ years

Review Source
Overall rating
Value for Money

Ease of Use

Customer Support Software

Likelihood to recommend

10.0

/10
QT9 QMS
Reviewed on 7/15/2021
We have observed several benefits from moving to QT9. It has allowed us to move from a paper...
We have observed several benefits from moving to QT9. It has allowed us to move from a paper based/manual QMS system to an electronic system and reduce our paper consumption and record storage. QT9 has streamlined our internal auditing process, preparation for regulatory audits, document control and approval, and organizational training. We have been able to reduce our active documents by 30% as unnecessary/redundant documents and procedures have been made more visible through the document review process. QT9 made it possible for our organization to effectively maintain and continue operating our QMS system without interruption during the global pandemic when limits were placed on gathering size. All of our records are now in one location and it has reduced the time that the organization and Quality unit spend in locating records.
Pros
QT9 allowed us to replace our clunky paper based QMS and move completely to a streamlined, validated electronic platform. The ability to easily manage our document control, auditing, non-conformances, corrective actions, preventive actions, complaints, and calibrations in one location instead of having to spend time retrieving records from multiple locations. QT9 made it possible to maintain our organization's training needs during a global pandemic, when meeting face to face and in groups was restricted. QT9 made it possible to conduct remote training of our organization and evaluate effectiveness with a written test. It unknowingly prepared us to maintain all of our core Quality functions in the midst of a global pandemic without a mis-step.
The report format (complaints, corrective/preventive actions, non-conformances, etc) look professional and they are able to quickly be downloaded and provided to either customers, suppliers, auditors, and internally.
The consistency of the appearance of the screens in each module made training the organization to use very easy. It was easy to translate the learnings from one module to another. Implementation was similar as well. QT9 technical assistance in uploading of documents and gauges increased the speed in which were able to integrate it into our organization. The unlimited training was also critical especially for the calibration module as it took a bit longer for us to implement and understand how it functioned.
Cons
One feature that would benefit from improving is the ability to create both corrective action and non-conformance records from a customer complaint. Currently, the software only allows the creation of one or the other, but not both. However, all records between complaints, corrective actions, and non-conformances are linked through a daisy chain scenario, but it can be awkward when retrieving records during an audit.
The calibration module was the most difficult for us to implement as it operated a differently than the other modules. However, QT9 technical support assisted and provided us with all of the training that we requested without delay and worked with us to ensure that we implemented the module correctly for our organization's needs.
Reasons for Switching to QT9 QMS
QT9 was validated by the vendor, compliant with ISO 9001, ISO 13485, and FDA 21CFR 211-210 and 820. It had the critical QMS functions that our organization required, including management review. It also did not require the involvement of an IT department or a significant implementation effort. Compared to other systems that we evaluated, it provided the most features for the best cost.
Response from QT9 Software
Jennifer - Thank you for the awesome and super detailed review! We really appreciate you taking the time to share your feedback. These are such great suggestions! We are sharing your feedback with our team.
Industry: Telecommunications
Company size: 501-1,000 Employees
Used

Daily

for

1+ year

Review Source
Overall rating
Value for Money

Ease of Use

Customer Support Software

Likelihood to recommend

10.0

/10
Very robust program that centralizes and manages essential QMS & EMS processes and outputs.
Reviewed on 3/3/2021
The software is outstanding, the support is quick, and thorough. The QT9 team has worked with...
The software is outstanding, the support is quick, and thorough. The QT9 team has worked with multiple departments in our organization. From our internal IT group working to setup connections to other platforms, to the implementation team members and document admins as they have been introduced. The support has been consistent and so very much appreciated.
Pros
Intuitive, friendly user interface, the well thought out connections from one module to another. The fact that each module is included and not ala carte is a HUGE benefit. The online training academy is one of the best I have used.
Cons
A lot of filters that just take a bit of getting used to. Sometimes they default and employees need a little extra coaching to make sure they are loading the view they need.
Reasons for Choosing QT9 QMS
Lack of support for existing platform. Failing infrastructure that no longer fits our business needs.
Reasons for Switching to QT9 QMS
We liked that QT9 is all inclusive and we would not have to plan for costly add-ons and prolonged integration and implementation. QT9 allows you to work at your own pace and implement the modules one at a time, or more. For example, we chose to implement document control and training and have engaged the entire organization in which module they would like to see implemented next.
Response from QT9 Software
Dina - Thank you very much for the 5-Star review! It is awesome to hear you like that all the modules in QT9 QMS are automatically included. Please feel free to reach out to us at anytime for additional training on any modules or training for any new employees.
Industry: Aviation & Aerospace
Company size: 201-500 Employees
Used

Daily

for

1+ year

Review Source
Overall rating
Value for Money

Ease of Use

Customer Support Software

Likelihood to recommend

3.0

/10
Limited Flexability
Reviewed on 6/28/2020
To be honest we do not use all the modules within QT9 but the ones we do use allow us to get by and...
To be honest we do not use all the modules within QT9 but the ones we do use allow us to get by and pass our QMS audits, but for the power user like myself that wants to extract detailed performance data you'll have to extract the data and pull it into excel and manipulate it to get metrics you need.
What you see is what you get, no customizing nothing. No overdue notifications or escalation process built in.
Pros
Ease of rolling out the product. Built in forms are helpful for a beginner. There are some features if you dig into the settings that allow you minor custom uses. The Calibration and Prevenative Maintenance Modules are promising and somewhat helpful. The document control module has worked well for us.
Cons
1. the biggest disappointment - No customability of modules and forms. Lots of tabs on the nonconforming product and corrective action forms and you cannot get rid of the tabs you do not need, You cannot even hide the tabs. Absolutely no customization to tailor to your organization.
2. No email reminders if you have overdue actions pending, you'll have to look at the database daily.
3. No filtering of overdue items in perato analysis. You can filter: Open Items, Closed, Rejected, Submitted and deleted but nothing to tell you if an item is past due. No email notifications if an item goes past due. You can only disply the entire reports that are overdue.
4. Ad Hoc Reports are Lackluster for reporting performance data analysis (Perato Analysis, Bar Graphs, Line Graphs etc) Nothing here to help you determine how effective or ineffective your QMS is.
5. If you have more than one process approver (Risk, CA's, NC's etc) and one of them approves the action the other approvers cannot go back and make changes. Your locked out. I had myself and one other person approving a risk and the other approver approved the risk and I could not make any changes. I had to delete the entire risk action and start over.
6. Only exports to CSV files not Excel .xlsx extensions
7. Internal audit module - build a schedule only. No prefilled forms to use, no form development capabilities.
Response from QT9 Software
Hi Nacaro As soon as we saw the review, we had our team personally reach out to you.
1. Customizability: Unlimited custom fields are quick and easy to setup. Tabs cannot be hidden it is like an economy car vs a luxury car. The features are included.
2. Emails: QT9 automatically sends email reminders and overdue notifications to the responsible parties and/or administrators.
3. Filtering: Each individual user can customize their dashboard grids for each module to filter and display the content you want to see. It sounds like you have the "Status" column hidden.
4. Ad Hoc Reports: We include customizable filters for all canned reports and a customer report generator to create any report you could need for measurement.
5. Approvers: Simply change your settings to require 2 or more approvers.
6. Exports: We export to a universal CSV that can be easily be opened in Excel & other programs.
7. Audit Module: During implementation you build an electronic form and you attach related files.
Industry: Packaging & Containers
Company size: 201-500 Employees
Used

Daily

for

6-12 months

Review Source
Overall rating
Value for Money

Ease of Use

Customer Support Software

Likelihood to recommend

9.0

/10
QT9 is a fantastic QMS tool
Reviewed on 10/14/2021
We are moving towards a complete integration with QT9 QMS to eliminate a lot of our paper and Excel...
We are moving towards a complete integration with QT9 QMS to eliminate a lot of our paper and Excel processes. Having interlinked modules (for example, being able to create NCs directly from inspection results) saves time and improves efficiency. Overall it's a very good platform for a company who needs to jump into a one-stop QMS solution.
Pros
The product is easy to implement because of the built-in world class workflows. You do not need to map your current processes into QT9 - you use the built-in process workflows, and the workflow and tab interface is consistent across the modules. This makes deployment easy, because once people are familiar with the interface they can learn other modules easily. You can focus on how to *use* the software, and not spend valuable time trying to *configure* it.
Cons
QT9 is very responsive to feature requests and bug fixes. We have provided several suggestions that are being considered to improve usability. I guess the think I like least is that I didn't start using it sooner.
Reasons for Switching to QT9 QMS
Multi-site, fully featured, great pricing for concurrent licensing, and out-of-the-box usability made QT9 the best choice for our company.
Response from QT9 Software
Michael - Thanks for the positive review! We are happy to hear that you have found the implementation easy. We look forward to working with you more on your other workflows and modules.
Industry: Railroad Manufacture
Company size: 201-500 Employees
Used

Daily

for

2+ years

Review Source
Overall rating
Value for Money

Ease of Use

Customer Support Software

Likelihood to recommend

10.0

/10
QT9 Quality Management System
Reviewed on 3/8/2022
Before using QT9 data gathering and analysis was difficult at best. Now we have the ability to...
Before using QT9 data gathering and analysis was difficult at best. Now we have the ability to analyze data in order to make real changes to the quality of our processes and products.
Pros
Easy to set up and use, yet very powerful reporting capabilities. As the administrator I can add users, structure drop down menus, etc. myself and don't have to rely on outside sources.
Cons
Nothing currently comes to mind, but this is because QT9 asks their customers to submit feature requests for improvement ideas.
Reasons for Switching to QT9 QMS
The other products offered a "core" package of modules, with the option to purchase others for an additional cost. QT9 provides everything for a single price. Because their pricing is by concurrent licenses it is much more scalable.
Response from QT9 Software
Terri - Thank you very much for the 5-star review! It is great to hear you like our simple pricing model with all the modules included. We appreciate you taking the time to share your positive experience.
QT9 QMS FAQs
Below are some frequently asked questions for QT9 QMS.
Q. What type of pricing plans does QT9 QMS offer?
QT9 QMS offers the following pricing plans:
Pricing information is available on inquiry.
Q. Who are the typical users of QT9 QMS?
QT9 QMS has the following typical customers:
2-10, 11-50, 51-200, 201-500, 501-1,000, 1,001-5,000
Q. What languages does QT9 QMS support?
QT9 QMS supports the following languages:
English
Q. Does QT9 QMS support mobile devices?
QT9 QMS supports the following devices:
Android (Mobile), iPhone (Mobile), iPad (Mobile)
Q. What other apps does QT9 QMS integrate with?
QT9 QMS integrates with the following applications:
Microsoft Excel, Microsoft Outlook
Q. What level of support does QT9 QMS offer?
QT9 QMS offers the following support options:
Email/Help Desk, Knowledge Base Software, Phone Support, Chat
Related categories
See all software categories found for QT9 QMS.